Sumi's Events
EVENTS & SHOWS
---
Current Show Schedule . . .
---
Moon of Many Petals
Sumi Foley, Penny McElroy, Snezana Petroric, Cindy Rinne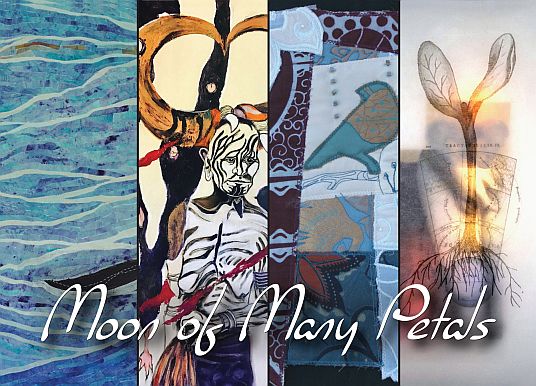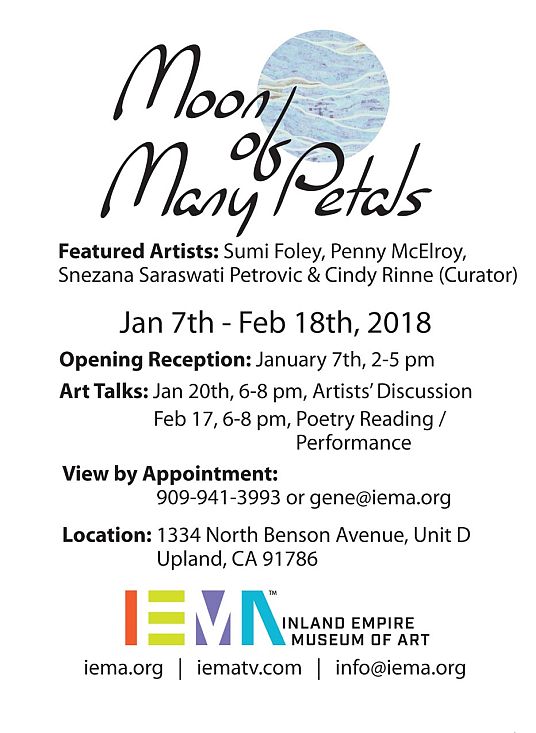 Sun. Jan. 7th-Feb. 18th 2018
Opening Reception: Sun. Jan 7th, 2-5pm
Artist Talk: Sat. Jan. 20th 6-8pm
Poet Reading/ Performance: Feb. 17th 6-8pm
IEMA (Inland Empire Museum of Art)
1334 N. Benson Ave. #D, Upland CA.
909-941-3993
Director:Gene Sasse
---
Scripps College Presents: ArtSmooch
A multidisciplinary showcase of student, faculty and visiting artist work.
Visiting artists:
Micah Huang (Music)
Angie Estes(Kingsley Tufts Poetry Award poet)
Sumi Foley (Visual art)
Saturday Feb. 17, 2018, 3-4:30pm
Garrison Theater, Scripps College
241 E. 10th Street Claremont, CA 91711
909-607-1870
http://www.scrippscollege.edu/events/calendar/artsmooch
---
Zephyr
Sumi Foley Solo Show
Sat. April 7th - 30th 2018
Bunny Gunner
Opening Reception: Sat. April 7 (during art walk) 6-9pm
254 W. Bonita Ave. Claremont, CA 91711
909-624-7238
www.bunnygunner.com
---
CASA CLEMENTS ART TOUR
Sat. April 28 & Sun. 29, 2-5pm
TBA
---
Sumi Foley
The month of June & July
Storrier Stearns Japanese Garden
626-399-1721
www.japanesegardenpasadena.com
---
4th Terry Masters & Sumi Foley
October 2018
Terry Masters desertpainter studio gallery

Reception: Oct. 7, 5-8pm
Hours: Wed.-Sun. 10am-5 pm
370 N. Palm Canyon Dr.
Palm Springs, CA 92262
760-778-8866
www.desertpainter.com
Download Event Flyer: [Palm Springs Cultural Center]


---
15th Annual Padua Hills Art Fiesta
Sunday, November 4, 11 am – 4 pm
At The Padua Hills Theatre
4467 Padua Ave.
Claremont, CA 9171
---